Job description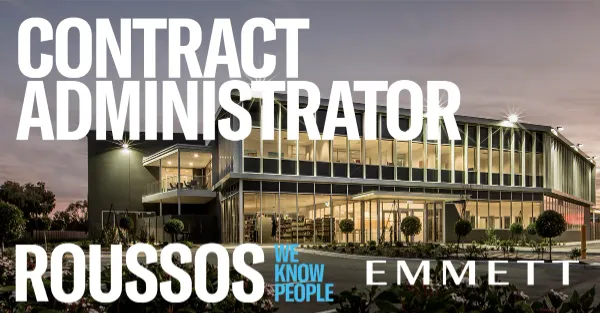 Diverse, innovative and passionate, Emmett is a family business with more than 100 years of expertise in developing complex and purpose-built projects throughout commercial, residential, arts, aged care, education and health sectors. As a well-respect Developer Builder, the team strive for excellence and are driven to deliver high-quality outcomes whilst maintaining a customer-centric approach to their work. For their staff, they offer genuine commitment, support and progression, which has contributed to lengthy tenures of 15+ years within the team. With the acquisition of more projects and further growth within the business, they are now seeking a driven Contract Administrator to join their growing organisation and contribute to their continued success.

The Role
Joining Emmett's team of talented professionals, you will have the opportunity to be involved in the complete end-to-end delivery of projects. You will carry out monthly onsite valuations and record progress variations, whilst ensuring all financial and contractual obligations are compliant.

Key responsibilities will include:

Partner, review and negotiate with subcontractors

Provide assistance on matters relating to implementation of policies and procedures

Manage RFI's to architects, clients, and consultants

Provide Senior management with relevant documentation in a timely manner

Preparation of project budgets for review and account forecasting

Prepare budgets and maintain oversite

Process progress claims, delay claims and external variations
The Like Mind
To be successful in this role, you will hold the relevant tertiary qualifications in Construction Management, in addition to having experience within a similar role in the construction industry. Attention to detail and a solutions-focused mindset will be key as you ensure that all contracts are compliant with the required legislation and regulations. Your knowledge of contract negotiation, variations and RFI's will see you transition smoothly into this position. Strong communication skills and the ability to work collaboratively within the team will see you maintain strong relationships with stakeholders, co-workers, and clients to deliver great work. If you are motivated by client satisfaction and want to grow your career working for a collaborative, supportive and successful company, this is a great role to do so.

Like to Know More
All communication and your resume will be treated with strict confidentiality and kept completely private until we have discussed the role and you are comfortable moving forward with the opportunity. Working exclusively with Emmett, all communication regarding this position is to be directed to Anna Roussos on 08 7073 6872.